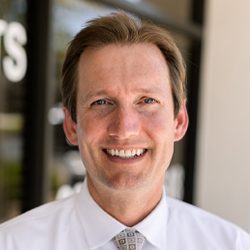 Chiropractor
Nick Baker, D.C.
Dr. Nick Baker is a chiropractor at Baker Family Corrective Spinal Care in Walnut Creek, CA, loves providing excellent care to his patients and he makes it his mission to treat each patient as a member of his family. He takes pride in listening to his patients' needs and also in helping them achieve their health goals whether it be recovering from an acute injury or improving chronic headaches. As a second-generation chiropractor, he received regular chiropractic adjustments from birth.
"When I was growing up I never rushed to the medicine cabinet when I was sick. We didn't have one. If I was sick, I got adjusted. If I was injured, I got adjusted. And when I was at my best, I continued to get adjusted to maintain my health and protect my immune system by keeping pressure off my nervous system. I also ate quality foods, was extremely active, taking Vitamin C supplements, and got plenty of rest. That was my health care system. The key was boosting my immune system and clearing out any interference in my body through regular chiropractic adjustments. As a result, I rarely got sick. I did get a lot of stitches growing up though!"
In a perfect world, Dr. Baker would provide this important health care system to all kids. "What many parents, unfortunately, do not know is that most medicines don't CURE diseases. Medicine often just masks the problem at hand, and sometimes they just prolong the issue because it 'numbs' you without fixing the underlying issue. Parents need to focus on boosting their family member's immune systems, and a great place to start is with regular chiropractic care."
Raised in Modesto, CA, Dr. Baker enjoys playing basketball, water polo, guitar, going mountain biking, and camping. Dr. Baker is very active and is always looking for a new adventure. After graduating from Life Chiropractic College West in 2007, he worked as an associate doctor alongside his father in Modesto. His father continues to share many valuable lessons he learned during his 30 years of Chiropractic experience. In 2009, Dr. Baker married the woman of his dreams and decided to move to her hometown of Walnut Creek to start his own practice. In 2013 Dr. Baker and his wife were blessed with a beautiful, active baby girl, Emily Marie. She loves her Chiropractic adjustments! Baker Family Corrective Spinal Care takes pride in providing chiropractic care for the DVC Water Polo teams, participating in many community events, and working with Rotary International. "My goal in life is to make everyone as passionate about life as I am. Chiropractic changes lives and I would love to show how it can help you."
CHIROPRACTOR
Rachel K. Nemy, D.C.
Dr. Nemy was born and raised in Castro Valley, CA. She studied Kinesiology at Saint Mary's College of California and then attended chiropractic school at Life Chiropractic College West in Hayward.
Dr. Nemy's goal is to be able to help young families navigate the world by putting their health first! She has a certification in Infant Chiropractic Adjusting and Latch Assessment, as well as the Webster Technique which is a technique specific to helping pregnant women have the best birth experience possible!
In her free time Dr. Nemy loves to spend time outdoors as well as reading all of the latest books! She has a 2 year old German Shepard mix named Theodore that keeps her and her fiance always looking for new adventures to get out all of his energy! She loves the Bay Area and is so exited to have found the perfect office to work in that is so close to home and family!
Dr. Nemy is so excited to serve her local community and can not wait to see you in the office soon!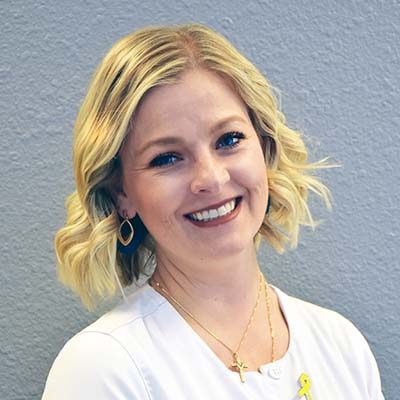 CHIROPRACTIC ASSISTANT
RENEE FRANCO
Renee was born and raised in Oakland. Her passion for health and wellness began at a young age after surviving cancer. Growing up, Renee studied classical ballet and danced until she was 23. She has been working in the medical field for over 11 years and in management for 8; maintaining a high level of organization in a fast-paced environment.
Renee has always had a strong passion for helping people. When her mom was diagnosed with stage 3 breast cancer, her interest in healing the body from the inside out was born. Renee and her kids are the biggest Oakland A's fans and enjoy spending their weekends cheering on their team.
If they're not at the baseball field, you can find them riding bikes, swimming, or barbecuing with family. Spending time with her family and friends is very important to Renee. So, remaining healthy is very important to her. Since starting chiropractic care with Dr. Baker, Renee has been free of migraines and chronic back pain.
Yo hablo español!
CHIROPRACTIC ASSISTANT
Krissy Sherwood
Krissy was born and raised in San Luis Obispo, California. She attended Cal Poly, San Luis Obispo where she received her bachelor's degree in Agriculture Business Management. After graduation Krissy worked in the pharmaceutical industry in Idaho.
In 1995 Krissy married her husband Paul. While working very hard in providing a medical billing service company to many doctors.
In 2007 Krissy moved with her family to Alamo, California. She has an amazing husband and two wonderful children. Her husband Paul worked as a first responder for the fire department in Redwood City. Her two children, Julia and Joshua, attended school in Alamo. For many years, Krissy kept very busy with her children's sports and other school activities. While chiropractic care kept both Julia and Joshua healthy and at the top of their game.
Krissy has a passion for helping people and has worked in the medical field for the past 30 years. In 2011 she was given the opportunity to work at Baker Family Chiropractic. Since that time, she has effectively managed the office while providing personal care to patients. Her kindness and concerns helped create a warm and welcoming environment for all.
When not at work Krissy enjoys spending time with her family and friends and visiting her children.
Monday
8:00am - 12:15pm
2:30pm - 6:00pm
---
Tuesday
8:00am - 12:15pm
2:30pm - 6:00pm
---
Wednesday
8:00am - 12:15pm
2:30pm - 6:00pm
---
Thursday
8:00am - 12:15pm
2:30pm - 6:00pm
---
Friday
8:00am - 2:00pm
---
Saturday & Sunday
Closed
Baker Family Corrective Spinal Care